Advice of lowering of Lake Barrington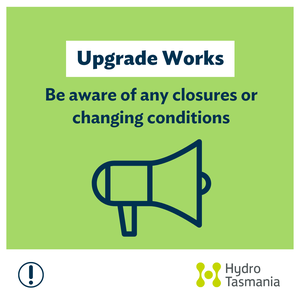 Tasmania Irrigation wish to recommence construction of the pump station on the shores of Lake Barrington for the purpose of progressing the Don Irrigation Scheme. To facilitate this, Lake Barrington will need to be lowered to between four and five metres.
Hydro Tasmania can confirm the draw down timetable as follows:
| | |
| --- | --- |
| Date | Draw Down |
| Monday 17tth April @8.00 am to Thursday 20th April @8.00 am. | 117.50m |
| Thursday 20th April to Thursday 4th May | 117.50m to 116.59m |
| Thursday 4th May to Sunday 7th May | Refill to above 119.42m |
As a result of the draw down, recreational access to Lake Barrington won't be possible. Boat ramps, pontoons, and water ski ramps may be out of the water.
We apologise for any inconvenience that this draw down may cause however, we value the work that Tasmania Irrigation are undertaking to provide water access for the agricultural sector.
Please note that should Tasmania Irrigation complete the works ahead of schedule or significant inflows are received, lake levels may rise prior to the refill date above. Our website provides advice on lake levels and is regularly updated: https://www.hydro.com.au/water/lake-levels
Any enquiries regarding this draw down can be directed to Tasmanian Irrigation's Project Manager, Jacob Tierney on 0400 068 869 or myself on 0429 812 387.