Anglers enjoy good fishing for start of the trout season.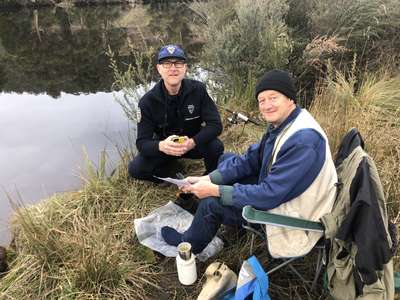 Saturday 5th August saw the 2023-24 brown trout fishing season opening. Anglers celebrated the new season by heading out to waters around the state. Some great catches were reported.
Four Springs Lake fished well, with many anglers returning to the boat ramp before lunchtime on opening morning with their bag limit of fish. Their catch included both brown and rainbow trout. Lures with a bit of orange colour got the best results. Anglers using wet flies also did well.
Recent rainfall had rivers flowing high providing backwater fishing. This made for exciting fishing on the Mersey, Leven, St Patricks and Tyenna rivers. Anglers reported tailing fish along the flooded river margins.
In the highlands Little Pine and Penstock lagoons fished well for anglers casting wet flies. The fishing on Bronte Lagoon was outstanding particularly for anglers using lures. The Bradys Chain of lakes along with Lake Meadowbank also fished very well with anglers enjoying the recently stocked rainbow trout.
In the northeast, Curries River Reservoir and Camden Lake fished well, particularly to anglers using lures.
Some larger than average sea runners were also caught in the lower reaches of the Derwent, Forth and Tamar estuaries.
Inland Fisheries staff were on patrol over the weekend with the assistance of officers from the Parks and Wildlife Service, Marine and Safety Tasmania and Tasmania Police. A total of 683 creel interviews were undertaken. Compliance rates with fisheries and boating safety legislation was very good with only a small number of breaches detected.
We would like to thank Tasmania Police, Marine and Safety Tasmania and Parks and Wildlife Service for their support once again this year.
It is great to have the 2023-24 angling season now open, and going on the weekends fishing this season is bound to be one to remember. If you haven't yet got your licence and headed out to try you luck, there are plenty of hungry trout ready to be caught in our inland waters. Tight lines everyone!