The brown trout season is about to open.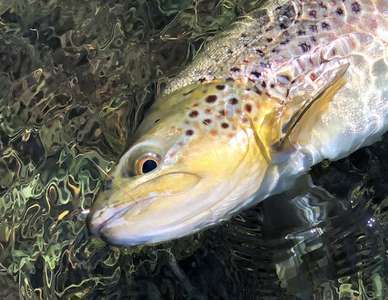 The 2023-24 trout season opens at midnight tonight and there is much anticipation and thought the best places to fish might be. You have mostly likely already received your Tasmanian Angling Licence renewal pack in the mail. If not, go to www.ifs.tas.gov.au. This year's licence has another great piece of artwork in the series by Trevor Hawkins titled "Sea Runner".
There has been reasonable rainfall so far this winter and on the back of several La Nina years most waters are in good condition with healthy numbers of well-conditioned trout. The rivers and streams have fared well from the wet conditions as have most hydro impoundments, natural lakes and tarns. The scene is set for a great year of fishing in Tasmania.
When planning a fishing trip check the weather conditions and in particular water levels to get best results. Rainfall can be very varied from catchment to catchment. Following rainfall patterns and knowing where to go will play a big part to your success.
There is a lot of information on the Inland Fisheries Service website including Angler Access, fish stocking and a list of waters.
You can also use the Infish 2.0 mobile app while you are on the go and record your catch in the Angler Diary.
See you out there!