Biosecurity Advisory 19/2023 - Travelling or returning to Tasmania? Remember the Biosecurity Basics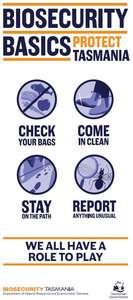 If you are travelling this school holidays, it's important to make sure you know what you can and cannot bring to Tasmania to help keep our state biosecurity safe – Biosecurity Basics protect Tasmania!
Tasmania has a strict biosecurity system in place to help protect our environment, primary industries, and way of life from the negative impacts of pests and diseases such as foot-and-mouth disease. If you are travelling to Tasmania, you have an important role to play in helping to protect the state.
When travelling to Tasmania remember to check your bags for any restricted items such as such as fresh fruits and vegetables, some animals and animal products, fish products, or plant and plant materials and to come in clean by making sure to thoroughly clean your clothes, gear and equipment before travelling to Tasmania.
Finally, remember while you are in Tasmania to be on the lookout for any potential biosecurity risks and if you do see anything that might pose a risk to Tasmania to report anything unusual by contacting Biosecurity Tasmania on (03) 6165 3777 or emailing biosecurity.tasmania@nre.tas.gov.au.
You can find out more about foot-and-mouth disease at www.nre.tas.gov.au/FMD or to learn about the biosecurity basics visit www.nre.tas.gov.au/biosecuritybasics