$2 000 tagged trout from Lake Mackintosh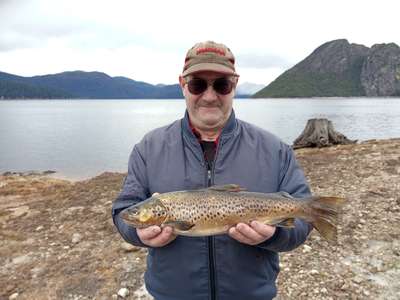 Phillip spent the the long weekend camped and fishing at Lake Mackintosh with his wife Janine and some mates. Friday was Phillips birthday and he was trolling up the lake with his mate Leigh using a deep diving metallic green lure. They had landed a couple of brown trout when they brought a third fish to the net. As they lifted the brown trout into the boat they could see something on the fish. Phillip thought it might be a fishing lure from a previous encounter with an angler.
Leigh said "It's got a tag." They had a quick look and could see that the orange tag had WINNER on it. They realised that it was a $2 000 fish from the Tasmanian Tagged Trout Promotion. After some congratulations Phillip called Janine on the two way radio to let her know the good news but she didn't believe him so they returned to camp to show her.
Phillip plans to use the prize money to buy more fishing gear.
For more information on and to see where you can go to catch a winning fish go to the Tasmanian Tagged Trout Promotion