Weekend fishing competitions a success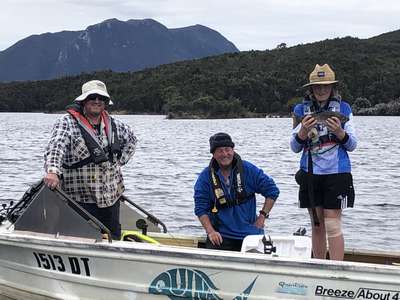 The weekend just gone saw anglers from around the country descend on Lake Burbury and Bronte Lagoon for successful fishing competitions organised by the Queenstown and New Norfolk Angling Clubs respectively.
173 entrants enjoyed favourable conditions on the West Coast at Lake Burbury, with 561 fish weighed in at the annual competition run by the Queenstown Anglers Club. Both brown and rainbow trout in good numbers were being caught near inflowing rivers spinning hardbody lures. A 1.2kg (cleaned) rainbow trout was the heaviest for the event.
50 entrants also made their way to Bronte Lagoon in the Central Highlands, where the New Norfolk Licensed Anglers Association hosted the Southern Tasmania Licensed Anglers Association's annual Interclub Challenge. Overall there were 93 trout weighed in with a total weight of 67.1kg and an average weight of 0.7kg. A 65cm brown trout weighing in at 2.2kg (cleaned) won the event.
Both events saw challenging weather conditions from late Saturday afternoon as a vigorous cold front crossed the State, but this didn't deter the enthusiasm of all competitors who braved the conditions, camped out and tried their luck.