Gunns Marsh Road status update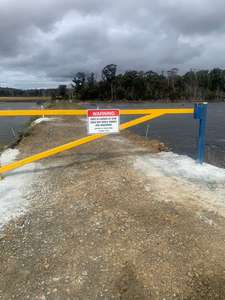 Hydro Tasmania advise work is continuing on the flood damage restoration works on Gunns Marsh Road but in the meantime, they have been able to restore public access to the Cowpaddock day use parking area, located just before the causeway over Cowpaddock Creek, from Tuesday November 15.
A boom gate has been installed on the causeway over Cowpaddock Creek. The gate will be open during the day for contractor access, but for safety reasons, the vehicular access past this point remains closed to public access and the boom gate will be locked each night at 6pm during the ongoing works. Please ensure you heed all access and safety signage in the area.
Once all work is complete in the area, Hydro Tasmania will advise when normal access to Little Lake and Gunns Marsh Lake is returned.
Hydro apologise for the inconvenience and thank you for your patience while this important work continues.
The Jonah Bay boat ramp remains open for anglers.
For up-to-date information, please visit Hydro Tasmania Alerts and for Statewide road conditions, please visit the Tasmania Police Community Alerts page.