Good vibe catches $2 000 tagged trout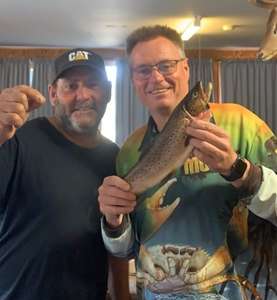 Darren and James had a good day out, drift spinning from a boat, on the eastern side of Brazendale Island at Arthurs Lake. They were using a small vibe lure and caught over 20 brown trout. They kept a handful to eat and were at the boat ramp in the evening twilight cleaning the fish when Darren looked over at a fish James cleaning and said "that ones got a tag." To their surprise the tag had WINNER on it and they have won $2 000.
The fish was one of the five fish released into Arthurs Lake this season. There are still 81 tagged trout in waters around the state to be caught as part of the Tasmanian Tagged Trout Promotion.
Before they started fishing for the day the pair agreed that if they caught a tagged fish that they would put it towards an hydraulic log splitter. The log splitter is on its way!