Hot fishing session includes $2 000 tagged trout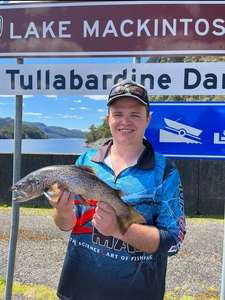 A 4:30am start from Devonport has resulted in another $2 000 tagged trout being caught from Lake Mackintosh. This is the third from Lake Mackintosh this season and brings the total caught so far for the 2022-23 Tasmanian Tagged Trout Promotion to ten.
Kade and his two mates planned the early morning start to Lake Mackintosh in an attempt to catch one of the large brown trout the West Coast lake is known for. Fishing from a boat along the eastern shore, amongst the dead trees, the mates had landed 13 fish and had a lot of strikes and hookups. It was a hot fishing session. Kade hooked fish number 14, a wild brown trout, it jumped and they could see that it had an orange tag.
Kade said " I became very excited knowing that there were $2 000 tagged fish in the lake." The fish put up a strong fight and there were high fives all round when Kade's mate netted the fish and they had it in the boat. They caught 15 fish all up.
Kade plans to save the money and will put it towards a boat of his own.
There are still plenty more to be fish to be caught in the 2022-23 Tasmanian Tagged Trout Promotion.