Trout Weekend 2022 enjoyed by all.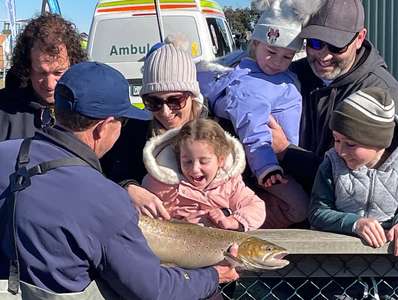 A crowd of of around 2500 turned out over the two days for Trout Weekend 2022. The weather was perfect, with blue skies and no wind. The wild brown trout were the focus that everyone came to see and they weren't disappointed. It was great to see the smiling faces and IFS staff enjoyed talking to and interacting with those that came along.
In perfect conditions lots of people took the walk down along the fast flowing Liawenee Canal to see the working fish trap. This proved very popular.
The Hydro Tasmania, Biosecurity Tasmania, MAST and Tasmania Fire Service displays were popular and well attended.
The Longford Angling Club barbecue, sold out of food both days, hot coffee van and the range of hot soup at the Miena Community Centre stall were all popular.
Thank you to everyone that came along and made the event so successful. Next year bring a friend and we will see you all again.