River Derwent trout study winner!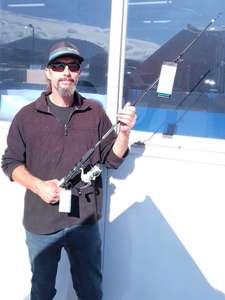 In late July 2021, 400 tagged wild adult brown trout were released into the River Derwent in the Dromedary area. Each of the trout has a single green coloured tag with a four digit number. The release of fish is part of a study to investigate the movements, growth and population of brown trout in the River Derwent. It will also tell us how easy the trout are to catch. The study runs for two years.
To date, 21 tagged trout have been caught by 18 anglers. All of the anglers went into the draw to win a brand new Shimano graphite fishing rod and reel combo. This season, Christian Tubb was the lucky winner! His tagged fish was recaptured on 2 January 2022, and had travelled the longest distance of any of the tagged fish. It was caught 56km upstream of the release site at near Meadowbank Dam.
There will be another chance to win a Shimano graphite rod and reel at the end of the 2022-23 trout season, just make sure you report green tagged fish to infish@ifs.tas.gov.au or phone 6165 3808
Please do not confuse these tagged fish with the Tasmanian Tagged Trout Promotion (three were released in the River Derwent), of which the tags are orange. These fish are worth $2000 each to the lucky angler. One of these has been caught and two still remain so keep an eye out!
If you fish the River Derwent for trout, please contact us and we will send you a free IFS Tasmanian Inland Recreational Anglers Logbook so that you can record your catch. We are interested in both tagged and untagged brown trout, so even if you haven't caught a tagged trout, your fishing information is important for managing this wonderful fishery!