Junior angler catches $2 000 trout.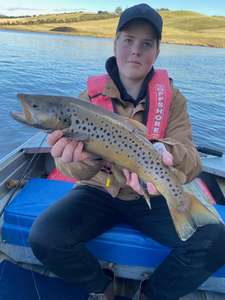 Fourteen-year-old Oliver Skinner loves fishing and living at Colebrook he likes to wet a line in nearby Craigbourne Dam most weekends.
In March, as he was about to turn 14, he registered for a free Junior Angling Licence. He knew that there were tagged trout in Craigbourne Dam as part of the Tasmanian Tagged Trout Promotion.
Making the most of the Queens Birthday long weekend, on Monday with his mum Joanne, they took the boat and went fishing on the dam. Oliver trolled a black and gold hard body lure behind the boat and had landed one brown trout and after 3 hours they were heading into the boat ramp when he hooked another fish. After a short fight they could see it was another brown trout as it came near the boat. Joanne tried to net it but missed on the first go then got it the second try. When they had the fish in the boat they noticed that it had an orange tag with the words "Winner" on it. Oliver said "Mum was dancing around the boat very excited and other people on the boat ramp could see".
Oliver said he is going to buy fishing gear with the $2 000 prize money "Maybe a fly rod or a tuna rod". Joanne is happy with that as the next time they go to the tackle store Oliver will not have to "borrow" money from her.
There are still 42 tagged fish to be caught in the 2021-22 Tasmanian Tagged Trout Promotion and a further 50 fish will be released over the coming weeks for the 2022-23 trout season.
Junior anglers from 14, up to and including 17, are eligible for a free angling licence as part of a Tasmanian Government commitment until the end of the 2024-25 season.
To be eligible to win a prize in the Tasmanian Tagged Trout Promotion you must be a licenced angler like Oliver. For more information about go to https://www.ifs.tas.gov.au/about/tasmanian-tagged-trout-promotion
Craigbourne Dam is owned and operated by Tasmanian Irrigation. Anglers appreciate access to this water for fishing 12 months of the year.