River Derwent tagged trout research - continued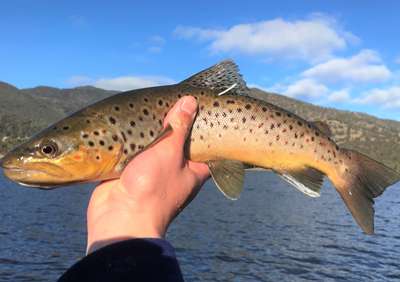 For the 2022-23 angling season, we are continuing the tagged brown trout study in the River Derwent. Another 400 tagged wild adult brown trout have been released in the Dromedary area. This year each of the trout have a single white coloured tag with a four digit number.
We will continue to investigate the movements and growth of brown trout in the River Derwent. It will also tell us how easy the trout are to catch.
We would like anglers to report the capture of these tagged fish, noting the tag number, location captured and if possible the length and weight of the fish. We are also keen to know how many other untagged trout are caught. There is no requirement to keep or release these fish, we just want to know if you catch one, along with the tag number and location.
Report tagged fish via email: infish@ifs.tas.gov.au OR phone 1300 INFISH (130 463 474)
Last season 21 of the 400 tagged trout were reported. These brown trout had a single green coloured tag with a four digit number. We are also interested if you catch one these fish, so please record the same details as listed above.
See the link below for the results summary of last seasons tagged trout study:
River Derwent trout study update (ifs.tas.gov.au)
For each green/white tag that is returned, your name will go into the draw for a Shimano graphite fishing rod and reel combo.
Please do not confuse these tagged fish with the Tasmanian Tagged Trout Promotion (another three have been released in the River Derwent), of which the tags are orange. These fish are worth $2000 each to the lucky angler.
Please look out for the new FREE Angler Diary which will be added to the Infish App. 2.0 at the start of the brown trout season. We are interested in both tagged and untagged brown trout, so even if you haven't caught a tagged trout, recording your fishing information in the Angler Diary is great way of improving your fishing and will help us with managing the Tasmanian trout fishery!