Brown trout season opening weekend multi-agency traffic operation in the Highlands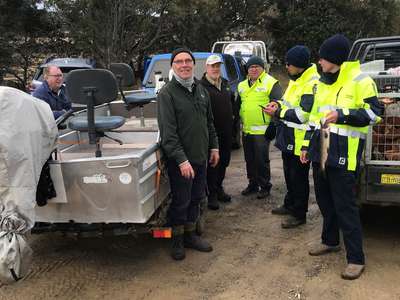 Tasmania Police led a multi-agency traffic operation on the Central Highlands with the assistance of other government enforcement agencies on Sunday 7 August.
Officers from Tasmania Police, Inland Fisheries, Transport Safety, Parks and Wildlife and Wildlife Operations conducted random breath tests, drug tests, vehicle checks, wildlife, firearms enforcement as well as inland fisheries inspections of motorists, between 10.30am to 2.30pm at the junction of Highland Lakes Road and Poatina Road in the Central Highlands.
The operation was organised in conjunction with the opening of the brown trout season, a key weekend event traditionally an extremely busy time in the Highlands and on the roads.
Results from the operation include:
20x fisheries inspections
2x drink drivers detected (readings of 0.14 and 0.09)
1x driving whilst an illicit drug is present detected (cannabis)
3x minor firearm offences detected
31x vehicle defect notices issued
3x unregistered vehicles detected
2x unlawful possession of illegally cut firewood detected