The Great Lake Tie-In is on in 2021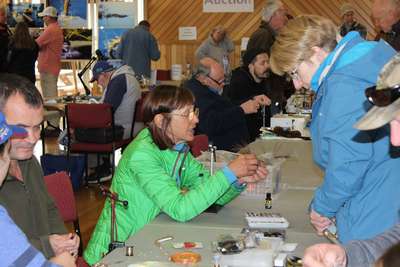 The Great Lake Tie-In is on Saturday 16 October 2021 at the Great Lake Community Centre, Cider Gum Road, Miena. The event starts at 10.00 am, finishes around 3.00 pm and is open to the public by gold coin donation.
The Tie-In is a coming together of fly tyers from around the State. The theme is to have the tyers interact with the public, share their knowledge of patterns, materials, tie flies, and lots of discussion on how to fish them!
Fly-tying competition to tie a "secret fly". This will be open to all visitors and tyers present. All materials and tools will be available. Great prizes from the Trout Guides and Lodges Tasmania and Red Tag Trout Tours
Trade displays include Inland Fisheries Service, Anglers Alliance Tasmania (AAT), EJ Todd, Spot-On Fishing Connection, Marine and Safety Tasmania (MAST), Anchor Wetsuits Fly n Dry, Bronte Shop and many others.
Angling memorabilia and handcrafted trout & fishing themed items for sale.
Food and drinks will be available on the day including a sausage sizzle, lovely homemade scones jam, cream, and the famous Guinness pies, and more.
Veteran Car Club of Tasmania, on their vintage car run, come and see some rare 1919-30 cars around lunch time.
More information at https://www.facebook.com/groups/346432735791644
As a lead-in to the Great Lake Tie-In, the Inland Fisheries Service will hold Talk trout Tasmania on the Friday evening, 15 October, at the Great Lake Community Centre. A series of short presentations by staff on the fishery, the talks start at 7pm with snacks and drinks provided. This free public event is a great opportunity to meet and hear from the IFS team on current topics.