Whitebait season closes for 2021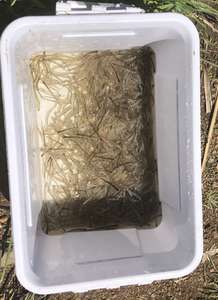 The 2021 whitebait season closed yesterday, Thursday 11 November. Whilst wet weather played a part in most areas of the State again this year, some good catches were seen by our officers.
This was the second year catch data was collected from fishers as they were checked, allowing a view of how fishers were reporting their experience.
Compliance was good, with over 160 checks conducted by IFS, Parks & Wildlife and Police, during the season. A reminder that now the season has closed, any further whitebait fishing is illegal and significant penalties apply.
Whitebait regulations are in place for a reason. The fishery is fragile because of over fishing between the 1940's and 1960's. Illegal fishing for whitebait puts this fishery at risk for everybody who enjoys this activity.
If you witness illegal fishing, or anything suspicious at our inland waters please let us know. You can call 0438 338 530 or 1300 INFISH (1300 463 474). You can email us at infish@ifs.tas.gov.au