Keeping boaters safe on inland waters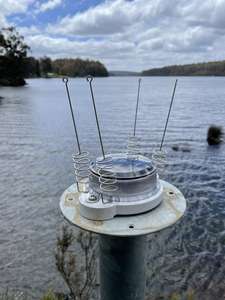 An initiative of Hydro Tasmania, MAST and IFS the navigation lights installed at 30 major boat ramps around Tasmania in 2013/14 are coming to the end of their service life.
MAST have funded replacement of the lights with IFS undertaking the installation work. The first five lights have been replaced at Lake Binney, Tungatinah Lagoon, Dee Lagoon and two at Lake Echo with the remainder to be completed in 2022. The white flashing lights are automatically activated and are strategically placed to aid navigation after dark. The lights are fitted with bird deterrent spikes to stop droppings affecting solar charging of the batteries.