South Riana Dam access improvements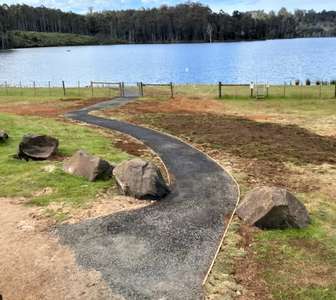 Recently contractors completed the accessible angling project at South Riana Dam.
This project was commenced in 2019 when it was identified that an easement was required to ensure public access to the car park and access area in perpetuity. The easement was created with the assistance and cooperation of the private landowner, Gary Carpenter and Tasmanian Irrigation.
Upon completion of the easement the IFS has built a new 60 m long pathway from the carpark to the waters edge via a self-closing pedestrian gate. The gently graded path provides access for anglers with mobility issues including wheelchairs with carers, mobility scooters, and walking frames. The gate is designed to permit canoe and kayak trolleys up to 1300mm wide.
The recently completed works cost $8,000.00 and was funded through the Government's Strategy to 'Increase Participation in Tasmania's Inland Recreational Fishery 2021-28'.
South Riana Dam is an ideal location for passive angling with gently sloping grass to the waters edge. The IFS stocks the dam with brown trout fry annually. Anglers are catching well-conditioned trout up to 1.5kg with bait, lure and fly.