Camden Dam update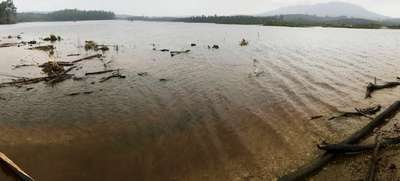 IFS officers recently visited Camden Dam and were happy to see the water lapping on top of the spillway. With recent rains in the states north, the lake is full and been fishing well for shore based lure anglers.
We are excited about the future prospects of this beautiful fishery. Having many inflowing streams, it won't take long for Camden Dam to quickly populate.
For those who are unaware, the dam sits at an elevation of 570m and takes up 210ha.
For comparison sake, here are some elevation and size numbers for other popular fisheries around the state.
Camden Dam - 210ha (570m)
Rocky Lagoon - 15ha (1150m)
Brushy Lagoon - 95ha (276m)
Penstock Lagoon - 140ha (920m)
Four Springs Lake - 145ha (200m)
Little Pine Lagoon - 190ha (1007m)
Lake Ada - 225ha (1148m) - similar size to Camden Dam
Talbots Lagoon - 245ha (642m)
Huntsman Lake - 380ha (400m)
Bronte Lagoon- 470ha (666m)
Bradys Lake - 640ha (651m)
Woods Lake - 1,176ha (738m)
Lake Crescent - 2,260ha (800m)
Lake King William - 2,890ha (720m)
Yingina / Great Lake - 15,600ha (1039)
While being close to Launceston, it's location provides easy access to other fishing spots on the St Patrick's River, upper North Esk and Forester River