12-year-old angler claims $10k Tagged Trout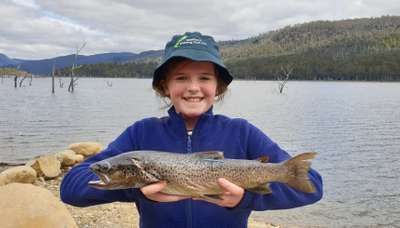 A 12-year-old girl from Selbourne in northern Tasmania has won $10k as part of Inland Fisheries Service's (IFS) Tasmanian Tagged Trout Promotion, during the 2020-21 angling season.
Member of Westbury Angling Club and Tagged Trout Promotion recipient, Fiona Batterham caught the tagged trout at Lake Rowallan at 11:15am on Sunday 18 October, which also marked national Gone Fishing Day.
This is the first of five tagged trout caught as part of the promotion, which involved IFS releasing five tagged brown trout into lakes across the State.
Each tag is worth $10,000 to the angler that returns the fish, tagged intact to the IFS.
Minister for Primary Industries and Water Guy Barnett said it is encouraging to see this prize be won to a dedicated young angler.
"I congratulate Fiona for catching the first of five tagged trout for this Promotion, and on Australia's biggest fishing event Gone Fishing Day" Mr Barnett said.
Minister Barnett said he encourages Tasmanians to get involved as there is still time to buy an angling licence and catch a tagged trout during the 2020/21 angling season.
There are still four tagged trout to be caught, one each in yingina/Great Lake, Arthurs Lake, Lake Burbury and Lake Pedder.
The Promotion continues until 2 May 2021 at 23:59 so there is still plenty of time to buy a licence through your local tackle shop, Service Tasmania or online from the IFS and enjoy the unique trout fishing experience our state has to offer.
For the full terms and conditions and details of the Tasmanian Tagged Trout Promotion visit the IFS website: www.ifs.tas.gov.au