Northern Recreation Day long weekend report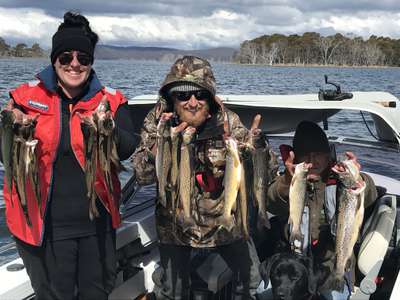 The northern Recreation Day long weekend saw many anglers flock to the trout fishing Mecca that is the Central Highlands of Tasmania. Fantastic weather conditions, sunshine and light to moderate winds created very pleasant angling conditions.
Fisheries Officers were on patrol and saw some fantastic fish caught. yingina / Great Lake is at a very good water level and is currently rising. Anglers trolling cobra lures on leadlines caught brown trout up to 2 kilograms. Due to the bright conditions, the early mornings and evenings were most productive.
There was some fantastic fishing at Arthurs Lake with some marvellous fish caught around Jonah Bay and the Cowpaddock area. One group of anglers boated 15 trout in 5 hours. Their secret weapon was a purple coloured cobra wobbler, that wobbled slightly more than normal! Woods Lake fished best during cloudy periods, with anglers reporting good catches across the weekend. In the northeast, Curries River Reservoir was the place to be with plenty of fish around the 1.5Kg mark caught.
Lake Leake is fishing well with lure and fly fishers catching some top quality browns and rainbows.
For the fly anglers, plenty of fish were polaroided in the Nineteen Lagoons area, and tailing fish were common in the evenings and at first light at Little Pine Lagoon.
The mayfly hatch has started in earnest at Talbots Lagoon and the fish are rising to them.
Fisheries Officers checked over 260 anglers and found a number of people without angling licences. They are still finding people out in boats failing to wear a PFD's whilst motoring and along with failing to maintain boating safety equipment in good order. These were duly dealt with.
For those that didn't get out this weekend, the good news is that 4 of the 5 $10,000 tagged fish are still to be caught. For more details check out the Tasmanian Tagged Fish Promotion.