Talbots Lagoon: the results of our Fisheries Performance Assessment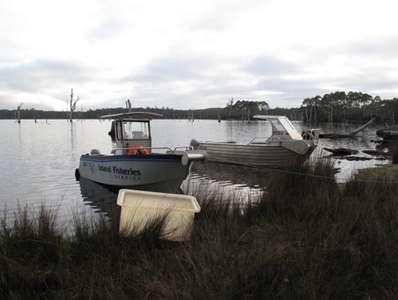 Talbots Lagoon is in the North West of the State, near Guilford. For the past five years the lagoon has been open to the wider angling community. This fishery is producing some very good fishing for both brown and rainbow trout. Many of the fish are of excellent size and condition.
During April 2019, we did a survey of the lagoon assessing:
the number of brown trout and rainbow trout,
the length structure of the brown trout population and,
the condition of fish.
In short, the fishery has a moderate number of very well conditioned brown and rainbow trout in the 1 – 2.3 kg weight range. On-going natural recruitment of both species is strong.
Put this fishery on your bucket list for at least one trip for the 2020-21 season. Access brochures are available at: https://www.ifs.tas.gov.au/publications/anglers-access-program-brochures
For the full results, read the Fisheries Performance Assessment, Technical Report.