Lake Leake on the rise!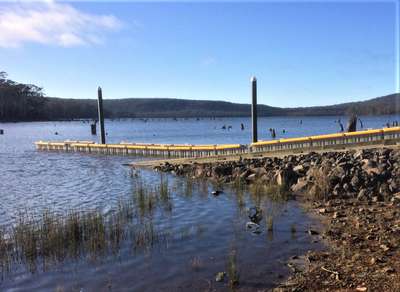 Over the last week Lake Leake benefited from 80 mm of rain and has risen over half a metre. Consequently, most of the new pontoon is floating which will improve boat launching and access to the lake safely for the first time.
It should be a cracker opening to the season on the 1st August as the average size brown and rainbow were 2-2.5 kg and in superb condition when the lake was shut due to Covid -19. We have been busy stocking adult brown and rainbow trout released during the winter so a visit to Lake Leake early in the season would be worthwhile. For stocking details click here.
The campgrounds are now fully reopened with all facilities, but campers will be restricted to fewer numbers to reflect current social distancing. It would be wise for anglers to ring ahead to the caretaker on 0409230072 as bookings are now required.
The Lake Leake Inn is also up and running with great meals (check out their famous parmy) warm fires, cold beer and a great atmosphere.
They do have accommodation but are booked out for the opening weekend so ring Phil or Caroline on 63 812092 for enquiries and bookings.