Anglers' Report - Tagged fish from the Bradys Chain of Lakes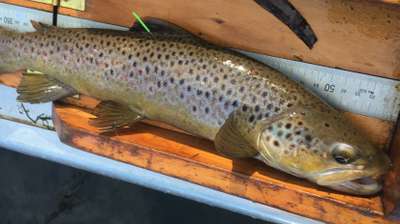 In May – June 2019 3,500 adult brown trout were caught in the fish trap on the River Derwent at Lake King William. They were tagged with a numbered green tag, and released directly into Bradys Lake. During the 2019-20 season, a total of 95 of these trout were reported to the IFS as being caught by anglers. Of these fish, most were kept, with just 5 reported as being released.
As all tagged fish were transferred into Bradys Lake, we could look at where they moved to within the chain of lakes. Of the 95 tagged trout caught and reported by anglers, 27 were from Bradys Lake, 46 from Lake Binney and 22 from Tungatinah Lagoon. This indicates that 71% percent of these tagged fish had moved out of Bradys Lake, with 48% moving into Lake Binney and 23% travelling down into Tungatinah Lagoon. One fish was reported from the Bradys white water.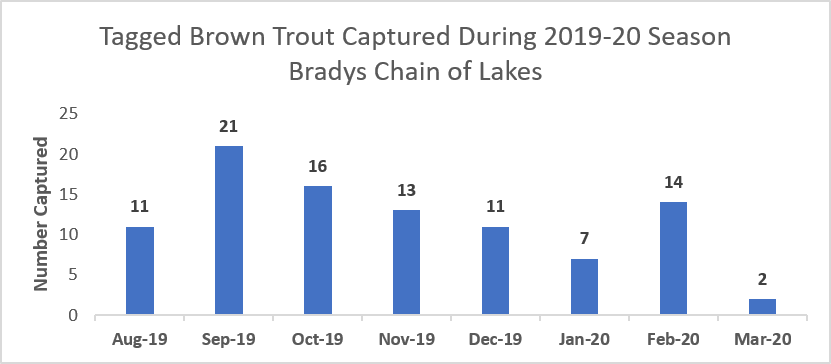 Tagged fish were captured throughout the season, although September seemed to be the most productive time, with a decline in reports until February 2020 when a increasing catch was reported. The low figure for March and absence for April are because of the Covid-19 restrictions being in place.
In relation to reported weight gains, the information reported was highly variable and was not able to be used to assess growth.
For more information read the Fisheries Performance Report.
We would like to thank all those fishers that took the time to report their catch of tagged trout and hope you enjoyed the extra effort that we are trying to put in to understand these lakes and improve catch rates.