Lake Leake webcam launched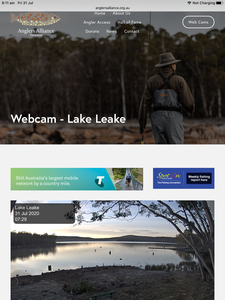 Ready for the new fishing season Anglers Alliance Tasmania have just installed a new webcam at Lake Leake camera. The installation was undertaken by Malcolm Crosse and his team. This camera adds to the Anglers Alliance webcam network which allows viewers to look at the lake conditions around the state.
Anglers Alliance Tasmania do a great job representing and supporting freshwater anglers. The webcams are only a small part of what they do. To view the Lake Leake webcam and others go to Anglers Alliance Tasmania.