Curries River Reservoir primed for the new season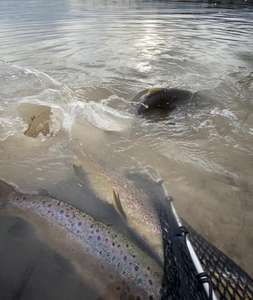 The Inland Fisheries Service completed a performance assessment of Curries River Reservoir in 2019. The assessment backed up angler experience that there was a very low population of trout present.
In response the IFS has increased levels of adult stocking of both brown and rainbow trout.
Over winter Curries has received 960 adult brown trout averaging 800 grams from yingina / Great Lake and 1120 yearling rainbow trout averaging 300 grams.
The fishing regulations for Curries River Reservoir are:
Size(min): 300/500 mm

Bag Limit: 5 (5 fish combined with only 2 over 500mm).

All methods (bait, lures and flies). From 1 hour before sunrise to 3 hrs after sunset
With some good winter rains in the catchment, Curries River Reservoir will again be on the radar of anglers for the 2020-21 season. Combined with Blackmans Lagoon, the Waterhouse lakes, Camden Dam, Briseis Dam and the many lovely rivers and streams in the north east there has never been a better time to explore this amazing area.