Been fishing for escapee Atlantic salmon recently? If you have, IMAS is interested in hearing from you.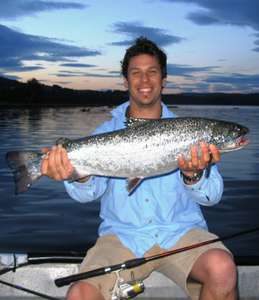 In late November and again in early December 2020, damage to marine farm infrastructure located in the D'Entrecasteaux Channel and Storm Bay resulted in the escape of a significant number of Atlantic salmon.
While it is a bonanza for recreational fishers, relatively little is known about the impacts of such escape events. There are several important questions that arise, including how widely and how quickly escapees disperse, how long they survive in the wild, and whether they are able to adapt to feeding on natural prey items.
We are inviting recreational fishers to share their experiences in catching escapees, so we can use these recent escapes as a case study. By mapping the area over which the Atlantic salmon have been caught, we can better understand patterns of dispersal and, by tracking catch rates through time, we hope to make inferences about survival rates.
Finally, any observations about the presence or absence of food items in their stomachs will help us understand whether the escaped fish feed on natural prey. If you would like to find out more, go to: https://www.surveymonkey.com/r/Salmon-survey2020
You can also receive information by mail: please contact Fiona Ewing (IMAS) by phone on 03 6226 8213 or email Fiona.Ewing@utas.edu.au and we will post you a copy. Thank you for helping us to learn more about salmon escape events.
Assoc Prof Jeremy Lyle
Senior Research Scientist | IMAS