Boating safety message ramping up for Christmas / New Year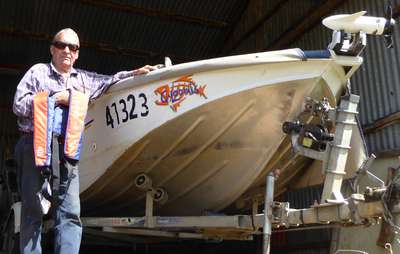 Most anglers around Tasmania are familiar with being checked by Inland Fisheries Authorised Officers, usually to see if they are complying with the Inland Fisheries regulations. For some years now, they have also emphasised boating safety as part of their inspections. Long time angler John Jones is one who is definitely glad they do. On Bronte Lagoon last month, the boat safety check revealed his inflatable life jackets had not been serviced.
"I took them down to get them serviced after talking to the Fisheries Officer and when I picked them up, they told me the one canister had come undone and it wouldn't have gone off" Mr Jones said. "It wouldn't have done me any good if I had gone in, no good at all".
Inland Fisheries recommend boat owners check their safety gear and overall boat condition in the lead up to Christmas to ensure all boaters are safe on our lakes. It is also a requirement under Marine and Safety legislation to service life jackets to the manufacturers recommendations. You can also periodically self-service inflatable jackets by manually inflating them and checking the canister is firmly and correctly attached.
Mandatory safety equipment is required when boating on waterways in Tasmania. The owner must ensure the equipment is carried, properly stored, kept ready for immediate use and maintained in good order. Life jackets must also be worn on lightweight craft at all times and vessels under 6 meters when under power. Penalties apply for not wearing a life jacket when required.
For more information on boating safety in Tasmania, please visit the MAST website.
If you witness any unsafe boating, illegal fishing, or anything suspicious at our inland waters please let us know. You can call 0438 338 530 or 1300 INFISH (1300 463 474). You can also email us with the details and any photos at infish@ifs.tas.gov.au