Responsible boating at Little Pine Lagoon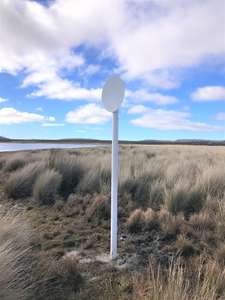 Little Pine Lagoon boat users would be aware that there has been a voluntary no petrol motors area at the northern end of the lagoon for several years to protect the aquatic plants and water quality.
The area has been identified as north of a line of buoys which ran from just north of Bertrams Island to the western shore. The line of buoys has been problematic in that each year the movement of surface ice across the lagoon has moved the buoys, often a considerable distance.
To alleviate what has been an annual task to re-align the buoys back into place, Anglers Alliance Tasmania with assistance from IFS, has removed the buoy line and replaced it with two white marker posts, each fitted with a white disk and located at about the high water mark on either side of the lagoon.
Boat users are now asked to observe the no petrol outboard area on the northern side of a line drawn between the two marker posts. It is recommended that only electric motors and manual propulsion be used to protect the fragile aquatic plant coverage in this shallow area of the lagoon.