Fishing report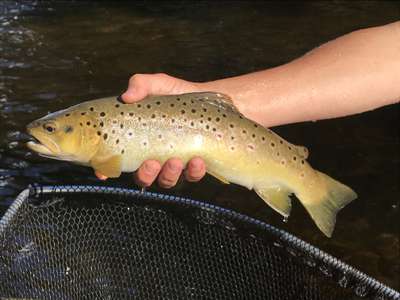 Lake Leake continues to fish well, producing well-conditioned browns and rainbows for both lure and fly anglers. Black and gold T tails and large woolly buggers have worked well with water being quite dirty after snow melt and run off. The fish seem to be feeding heavily on snails and stick caddis.
Blackmans Lagoon is still lower than many anglers would like but large brown trout are regularly being caught. With rain and wind on the horizon, this lake will fish well in coming weeks.
Craigbourne Dam and Brushy Lagoon are still fishing well with surprising number of good brown trout coming to hand. Water levels have risen well and this will push the fish closer to the freshly flooded edges, looking for worms and grubs.
South Riana Dam has been the pick of the NW waters with anglers spinning from the shore catching large browns. The fish in this lake have been very impressive this season and it is well worth a few hours of effort.
Penstock and Little Pine lagoons have been iced over in the past week and difficult to fish. Bronte Lagoon and the the Bradys Chain have been fishing well and some nice fish have been caught in Lake Echo.
The cold, frosty mornings and bright days have made fishing tough in many lakes but on the rivers, fish have been eating nymphs and small celtas. Most of these fish have been found in slower water and small backwater. Water temperatures are still low and this will keep fish away from faster runs. Anglers fishing in the head waters of many rivers have reported catching some fish on non descript dry fly patterns during warmer parts of the day.
With heavy rain forecast, river anglers would be well advised to look for the 'inside bend' of their favourite river. As velocity increases, fish will move into the slower parts of the river and feed heavily on worms and dislodged aquatic insects. Lure anglers should also concentrate on these areas and not look to cast across the river into the current.
In the brackish water, reports are a little bit patchier. Sea trout have turned up but are very hit and miss at the moment. The forecasted rain may push these fish back towards to the salt but when the fresh water subsides, chasing sea trout will be a great option.