Shannon Lagoon offers a challenge to anglers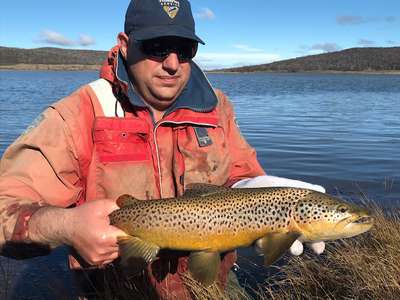 During June 2017, we collected 500 fish from the River Derwent fish trap at Lake King William and then tagged and transferred into Shannon Lagoon. On 14-15 May 2019 we surveyed Shannon Lagoon to see how these fish were going.
Over one night of trapping, we captured 43 brown trout. Of these fish, seven were tagged (16%). These tagged fish were mostly around 250-290 grams when initially released in 2017. All but two of these seven fish when recaptured last week, were over 1kg (see the table below).
Tag No

Release weight (g)

Year 2017

Capture weight (g)

Year 2019

Gain in weight

2567

250

650

400

2540

260

1120

860

2291

220

1387

1167

2084

270

980

710

2138

290

1047

757

2556

290

1128

838

2350

430

1150

720

Average weight (g)

287

1066

800
Tagged fish collected from River Derwent trap and released into Shannon Lagoon in 2017, and examined again in May 2019.
The average weight for the tagged fish was 1,066 grams, meaning they had increased in weight by almost 800 grams. One fish had grown from 220 grams to almost 1.4kg. The average weight for the non-tagged resident fish was 1,107 grams. Of all the fish captured, one third were between 1.25kg and 1.75kg, with the largest fish weighing 2.1kg!
Back in 2017 when these fish were released, they represented 24 percent of the catch, while this year (2019) they represented 16 percent. This shows us they surviving well, growing and in good condition.
So if you have an afternoon to spare during the fishing season, try a session at Shannon Lagoon, you may be surprised at the size and the quality of your catch. If you catch a tagged fish, let us know the weight and length by emailing infish@ifs.tas.gov.au or phone 6165 3808.