New toilets at popular fishing locations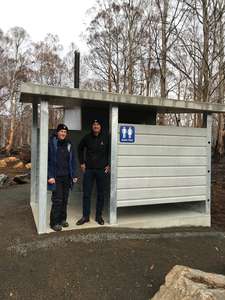 The Minister responsible for Inland Fisheries, the Hon. Guy Barnett officially opened one of two new toilets at Penstock Lagoon today. Construction has started at the other locations with all on track to be completed prior to the trout season opening on Saturday 3 August. The Inland Fisheries Service is improving amenities at boat ramps and campgrounds across the State including building toilets at:
* Bradys Lake, main boat ramp;
* Bronte Lagoon, boat ramp;
* Four Springs Lake, southern end of the car park;
* Lake Augusta, boat ramp;
* Lake Sorell, Dago Point campground;
* Little Pine Lagoon, main boat ramp;
* Penstock Lagoon, boat ramp and the Ladies Walk area;
* Tungatinah Lagoon, boat ramp and
* Woods Lake, boat ramp.