A new bridge at Tumbledown Creek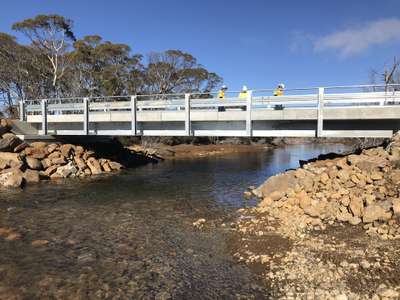 Message from Hydro Tasmania:
Tumbledown Creek bridge was closed in 2018 due to structural deterioration. This closure has prevented access to Little Lake and Gunns Lake.
We are pleased to inform you that Hydro Tasmania and TasNetworks have now replaced the bridge, and it can be used by the public. The road still remains as a 4wd track; please drive to the conditions.
Please note that Gunns Marsh Road is closed and will re-open one week before the start of the fishing season, please see: https://www.ifs.tas.gov.au/the-rules/season-dates-and-times.
We hope you can enjoy access across Tumbledown Creek once the fishing season commences.
Thanks for your interest, patience and understanding.