Business Clean Up Australia Day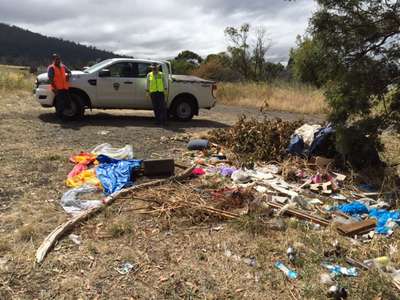 Today we participated in Business Clean Up Australia Day 2019.
Three teams hit the riverbanks and lakeshores filling three Utes and a big trailer of rubbish. And there is still some large items to collect tomorrow.
One team, from the Carp Management Program started at the Lake Crescent boat ramp and covered a lot of ground. They cleaned up rubbish all the way from Lake Crescent to the boat ramps and campground at Lake Sorell
In the south two teams went out and worked along the River Derwent. One team headed south from New Norfolk working both side of the river as far as Bridgewater.
The other team headed north working along the angler access points on the River Derwent to Gretna and the Tyenna River.
The news from lakes Crescent and Sorell was good with the rubbish less than last year, made up mainly of drink containers.
Not such good news from the south with a lot of domestic waste dumped along, and in, the rivers.
We encourage all anglers to get out on Clean Up Australia Day this Sunday and clean up around our fisheries.
For more information visit the Clean Up Australia Day website.