2019 brown trout season opening a great success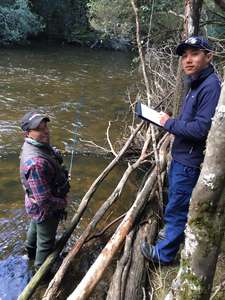 Well, the Tasmanian weather during August did not disappoint last weekend, with the usual mixed bag of wind, rain and snow, followed by a lovely day on the Sunday.
Once again, thousands of eager people of all ages and walks of life, ventured to their favourite spot to either try their hand at catching one of our world class brown trout, or enjoy the experience with family and friends.
In the Central Highlands catches were good considering the low water temperature of about 3 degrees. Woods Lake was as popular as ever, with Penstock Lagoon, Bronte Lagoon, Lake Echo and the Bradys' chain rounding out the waters of choice. A mix of brown and rainbow trout were caught. In the east, Tooms Lake, Lake Leake and Lake Crescent proved popular, with successful sessions at Lakes Crescent and Leake and more challenging conditions at Tooms Lake due to current water levels. In the north, Four Springs and Blackmans Lagoon proved to be extremely popular, as did the Mersey River, South Riana and Pet dams in the north-west.
Overall, it was a fantastic weekend enjoyed by many. The signs are that it is going to be another great trout season in Tasmania, with fish hungry and in excellent condition. With so many waters performing during the opening, why not plan a trip soon?
Please follow Inland Fisheries and boating safety regulations while you spend time fishing our inland waterways, especially measuring your catch.