Talk Trout Tasmania 2018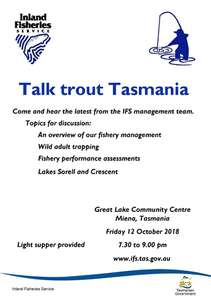 Join us at the Great Lake Community Centre on Friday 12 October for Talk Trout Tasmania 2018.
This is an opportunity to meet some of our inland fisheries staff.
Hear about fisheries management and ask your questions of the panel.
John, Chris, Rob and Brett will present information and strategies about the management of our wild recreational fishery.
On the eve of the Great Lake Tie In and with national Gone Fishing Day on Sunday, Talk Trout Tasmania is the perfect way to start this exciting weekend.
Great Lake Community Centre, Miena. 7.30 to 9 pm. Supper provided.
Download a copy of the Talk Trout Tasmania 2018 flyer.