IFS involved in search and rescue exercise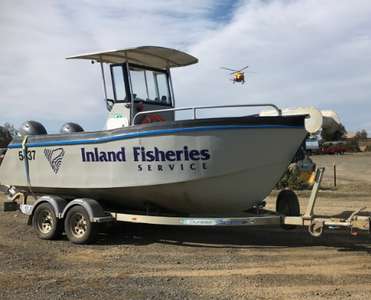 On Saturday 22 September, IFS Officers participated in a large-scale search and rescue training exercise at Liawenee on the Central Highlands. Participants came from Tasmania Police, SES, Surf Life Saving Tasmania and bushwalking groups. We participated with a boat out on the yingina/Great Lake in windy conditions.
Over130 people working in teams performed line searches on both land and water, looking for mock debris around yingina/Great Lake.
The event was a success, with over 60% of the mock debris found by the search teams.
Sharing knowledge and working together was the main benefit. We are now better prepared for a real search situation.
Our local knowledge and availability of boats means the IFS is front line in freshwater rescues. This training strengthens our ability to assist with Search and Rescue operations. Being prepared is vital and saves lives.
For more information on the training exercise go to view the ABC news story.