Upgrade to Lake Cethana boat ramp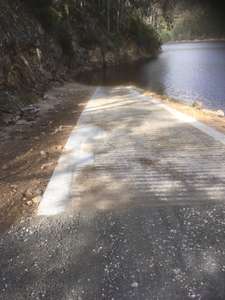 An update from Hydro Tasmania.
Hydro Tasmania has just completed an upgrade of the boat ramp at Lake Cethana. New guard rails and edging have been installed at the concrete boat ramp, and vegetation around the ramp has been cleared to allow for better and safer access.
Located less than an hour's drive from Devonport, Lake Cethana has deep waters stocked with brown trout and offers a great day out on the water fishing. The lake is also popular with paddlers, with many taking to their kayaks to enjoy the natural beauty of the lake with its many inlets.
The upgrade is part of Hydro Tasmania's ongoing project of assessing recreational sites and improving amenities to provide a better visitor experience.
If you are heading for a day out on the water at Lake Cethana, or any other waterways, please remember to check the weather forecast and adhere to all safety regulations and requirements. Hydro Tasmania also publish lake levels on their website, which provide useful information for anyone planning a trip to their lakes.