Hydro Tasmania/Cressy Community 2018 Tasmanian Trout Expo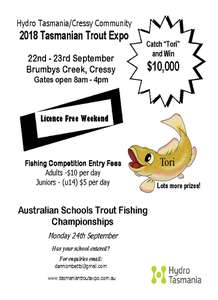 The Tasmanian Trout Expo is on again this weekend.
Come to Brumbys Creek this Saturday and Sunday between 8am and 4pm.
The IFS is supporting the Expo making it an angling-licence-exempt weekend for participants.
Prizes are offered in various categories and the major draw card is a tagged wild brown trout worth $10 000.
The event involves over 50 volunteers and engages the Cressy community.
Gates are open 8am to 4pm. Daily admission is $10 for adults and $5 for under 14 years.
Hope to see you there.
Hydro Tasmania/Cressy Community 2018 Tasmanian Trout Expo flyer