Fish are about despite fickle weather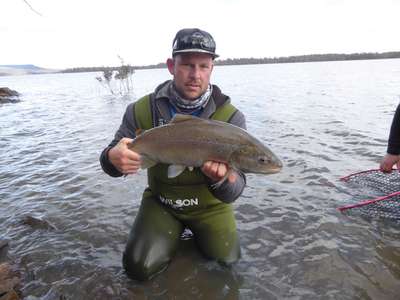 Fisheries Officers over the weekend patrolled waters across the centre, east and northeast of the State. Saturday delivered fantastic angling conditions. Plenty of sunshine and light winds. The weather was not so good on Sunday, with strong westerlies.
Standout waters for the weekend were:
Lake Crescent – There were some very impressive catches from Lake Crescent. Hard body lures fished in close on the rocky shores and along the edges of the marshes produced the most success. James Triffett of Havenview, with the assistance of his mate Tim on the landing net, caught the 3kg plus fish pictured.
Tooms Lake –The water is still quite low but it is fishing well. Bait anglers took good fish around the edge of the lake and the boat anglers did well too.
Blackmans Lagoon – Drift spinning and wet flies caught some outstanding rainbow and brown trout. Anglers reported the fish were strong fighters and in superb condition.
Lake Echo – Two anglers, using Rapala hard body lures, reported catching 45 trout for the weekend. They caught most of these in the deeper parts of the lake.
Our Officers issued ten infringement notices over the weekend. Boating safety offences were the main issue. Failure to wear PFD's and failure to carry minimum safety equipment accounted for six of the notices issued. We found three other anglers fishing without a licence and one using more rods than endorsed on their licence.
Please follow Fisheries and MAST regulations. They are there to protect our fishery and ensure people get home safely. If you witness illegal activity at our inland waters please report it to us on 0438 338 530 or 1300 INFISH (1300 463 474) or email us at infish@ifs.tas.gov.au . Help us protect our valuable inland fisheries for all to enjoy into the future.