Inland Fisheries Service presents at national conference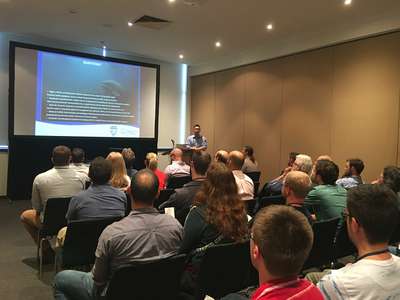 Jonah Yick and Rob Freeman presented at the 2018 Australian Society for Fish Biology conference held over 7 – 11 of October in Melbourne.
The conference brings together delegates from universities, environment, and fisheries bodies around Australia. There are about 200 presentations made.
Jonah Yick, Carp Management Program Leader, talked about the status of carp in Lake Sorell, and how close eradication is. Jonah presented during a session chaired by staff from the National Carp Control Program.
Rob Freeman, Senior Fisheries Manager presented two talks. One on the impacts of climate change and invasive fish on the threatened Swan galaxias. The other on the use of adult brown trout collected from spawning runs to support lake-based fisheries.