Big weekend of fishing activities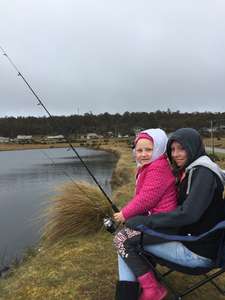 This weekend was full of freshwater fishing activities. It all kicked off with Talk trout Tasmania held at the Great Lake Community Centre, Miena on Friday night. Anglers had the chance to meet IFS staff, learn about hot fishery topics and ask questions.
Saturday saw the Great Lake Tie In, once again in Miena. A wonderful community event and another chance to talk with anglers about our fishery. We enjoyed our day, as did many others.
Sunday was angling licence free and national Gone Fishing Day. Many people took the time to get out and fish our inland waters. Anglers Alliance Tasmania and local angling clubs held junior fishing activities at Ulverstone, Latrobe, Longford, Bushy Park and Miena. The organisers of these events are to be applauded on their efforts. Hundreds of children and their families enjoyed a great day out.