Trout Weekend 2018 a huge success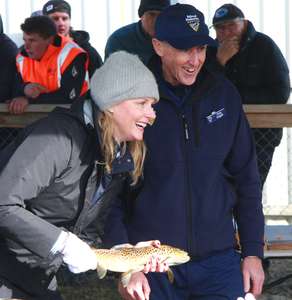 The crowds rolled out for Trout weekend 2018. Over 3000 patrons made their way to the Central Highlands hot spot. Things could not have gone better.
The weather was balmy (by Liawenee standards) and a fresh run of spawning brown trout arrived on cue. These were, once again, the major attraction.
A few bigger trout from Lake Crescent proved popular with visitors. As did the numerous displays and activities.
The Minister responsible for Inland Fisheries, Sarah Courtney, enjoyed her visit on Saturday. Sarah was able to meet many of the local anglers and visitors. Sarah even took up the opportunity to "strip" a fish of ova. We will add these ova to all the ova stripped and taken to the Salmon Ponds for hatching. Once big enough, these fish will stock waters around Tasmania.
Thank you to all the IFS staff, the vendors, the clubs, the organisations and exhibitors who come together to make this a great weekend.