River Clyde Carp Survey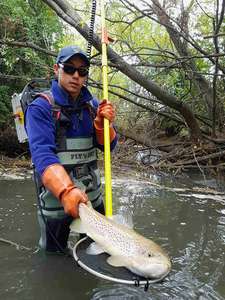 While we were doing the lakes Sorell and Crescent juvenile carp surveys we also did a downstream survey of the River Clyde.
The survey looks at selected sites featuring ideal carp habitat downstream to the township of Hamilton. The aim is to make sure carp have not become established in the River Clyde system. We have undertaken this survey every year since carp were first found in lakes Crescent and Sorell in 1995.
We surveyed three sites on the River Clyde:
The Nant Bridge (300 m)
Bothwell sewage works (100 m); and
The Hamilton Weir (100 m).
We backpack electro fished for a minimum 30 minutes at each site. We caught 55 redfin perch, 9 tench, 3 brown trout, 11 eels and, most importantly, no carp. This indicates that the containment strategy employed since 1995 remains successful.