Tasmanian Inland Fishery Management Plan 2018-28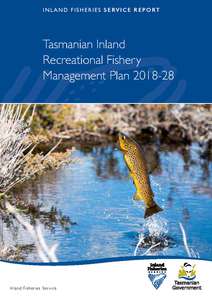 Today, Sarah Courtney, Minister for Primary Industries and Water, launched the Tasmanian Inland Recreational Fishery Management Plan 2018-28.
The Plan will guide the management of the recreational trout fishery in Tasmania for the next 10 years. It aims to provide a sustainable, vibrant and healthy fishery.
After extensive public consultation, the Plan provides better opportunities for anglers, assesses fishery performance and conserves fish stocks as a recreational resource for future generations.
The plan outlines measures to increase participation locally and from tourism markets. It balances the needs for individual fishery management while standardising regulations.
It supports the actions to grow and develop recreational fishing in Tasmania. These include a freeze on trout fishing licences, improved access for anglers and better facilities that encourage female participation and angling tourism.
The Plan ensures all anglers will have an enjoyable fishing experience into the future.