Another successful conviction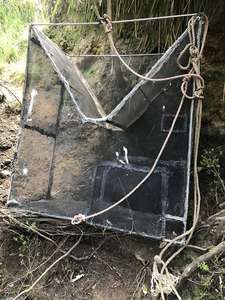 On Wednesday 6 June, Paul Nicholls appeared in the Smithton Magistrates Court. Mr Nicolls was facing seven charges relating to the illegal taking and possession of whitebait.
In November 2017, our officers found Mr Nicholls at the Duck River. He was fishing for whitebait with an illegal net after the season had closed.
Mr Nicholls pled guilty to, and was convicted on, all charges. He was fined $3000 and ordered to pay $82.15 in court costs.
This is the seventh person to be convicted in relation to the illegal taking of whitebait this year. There are more still to go through the courts. This show that those who do the wrong thing are taking a very big risk.
If you witness or suspect illegal fishing, please let us know. You can send us an email at infish@dpipwe.tas.gov.au, or call our Manager of Compliance and Operations Stephen Hepworth on 0438 338 530. We need your help to stop illegal fishing.