An update on fishing in the Coal River
Published on July 3, 2018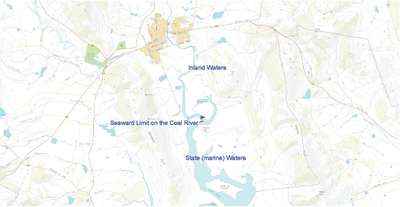 Inland Fisheries Service Officers visited the Coal River today after yesterday's reports of illegal fishing.
Our Officer did detect people fishing in closed waters.
We would like to remind you that most inland rivers and lakes are currently closed to fishing. This does include the Coal River for taking of salmonids.
The boundary between where you can and cannot fish is the Seaward Limit. This is the boundary between marine (State) and inland waters.
The seaward limit for the Coal River is Saltbush Point delineated by a straight line between grid references E 536862 N 5266238 and E 536962 N 5266238 (GDA 94).
To help out, we've included a map and drawn the Seaward Limit for the Coal River – click on the map to make it bigger. (all of Halfmoon Inlet is downstream of the Seaward Limit).
If you are not sure about where you can fish there are ways you can check: