Good day at the grasshopper festival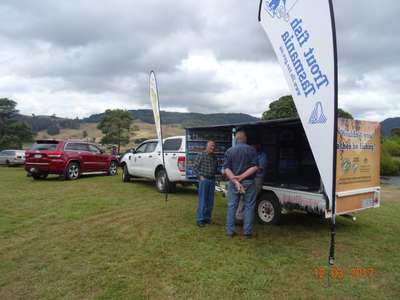 On Sunday 12th March we were at the Grasshopper Carnival at Gunns Plains. The rain did not stop between 250-300 people coming along.
We had our display trailer and were able to talk to lots of anglers. The kids were happy to receive giveaways including stickers, fishing lures and booklets full of fishing tips.
The best fished weighed in was a brown trout just shy of 1 kilogram. Fantastic prizes were given away by the event organisers to anglers on the day.
The event organiser intends to run the Grasshopper Carnival again next year, so put it into your diary and come and enjoy some fantastic fishing, complete with prizes and giveaways in 2018!