A new landing stage for the boat ramp on Meadowbank Lake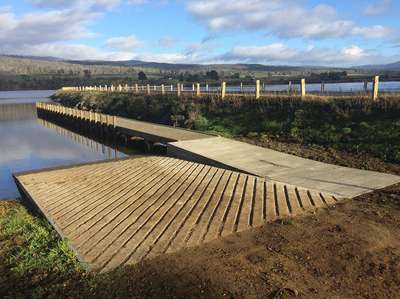 Marine and Safety Tasmania (MAST), with Hydro Tasmania, have replaced the landing stage at the Dunrobin Bridge boat ramp on Meadowbank Lake.
The new landing stage has been widened to 1.80 metres and extended by 10 metres. Widening the structure from 1.2 metres will make it a lot easier to use, particularly when loading and unloading gear from boats. And the extra length will make it easier for boats to come along side when the dam is at its low operating level.
Jointly funded by MAST and Hydro Tasmania the new landing stage will be a great addition to the boat ramp upgrade that was completed in 2005.
Meadowbank Lake is open to angling all year round. More information can be found in our Meadowbank Lake Anglers Access brochure.