Trout and salmon for Craigbourne Dam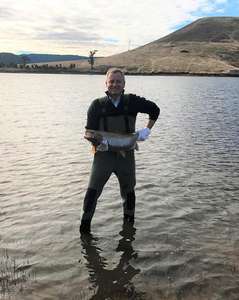 Today we stocked 300 wild brown trout and 105 Atlantic salmon into Craigbourne Dam.
The wild brown trout from the highlands averaging around half a kilogram, will grow well in Craigbourne Dam and will help underpin the fishery for the coming season.
The salmon were between 6-9kg and were donated by Huon Aquaculture Company.
The Minister responsible for Inland Fisheries, Jeremy Rockliff, was on hand to see the release and said "The coming 2017-18 trout season is shaping up as even better than last year and I would encourage as many people as possible to buy a licence and enjoy the great trout fishing that Tasmania has to offer".